Well thats a first a photo of the Northern Quarter Gallery is in an Exhibition in The Manchester Art Gallery!
Almost 50 years after he was nearly kicked out of Manchester's polytechnic for failing his photo theory course, the documentary photographer Martin Parr has trained his lens on the city once more.
Earlier this year we had the great honour of meeting Martin Parr here at Afflecks in the Northern Quarter. He spent about 20 days in Manchester from April to July this year, taking an estimated 10,000 photographs. Often he worked on the street, including at the annual Pride festival, or by a urinal set up on match days in a street near Old Trafford. Other times he was invited into people's workplaces or homes, such as a royal wedding house party in Didsbury, one of the city's most expensive suburbs.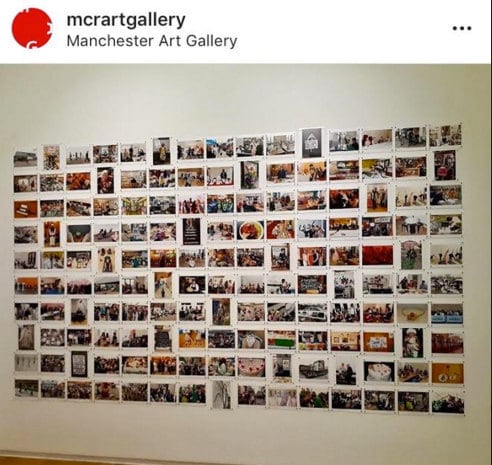 Little did we know that the photo he took that day on his visit to  would we actually be in the exhibition its self at The Manchester Art Gallery. The picture of me, Johanne standing in the studio is the one on the top right. We are yet to get a proper photo of it as it is very high up! Still it is very exciting to be in such an amazing exhibition about Manchester through the eyes of Martin.
You can read a little more about it in this article in the Guardian.
Martin Parr returns to Manchester to capture its changing landscape
Exhibition in city where photographer learned his trade focuses on past and present
You can see the exhibition which is Free at Manchester Art Gallery Friday 16 November 2018–Monday 22 April 2019